What is Whitcommand?
Whitcommand is a secure platform that gives users remote access to the properties they are responsible for. Whitcommand grants you access to comprehensive roof reports, condition summary, observations, recommendations, and much more.
Whitcommand is an efficient way of defeating roof leaks. In our opinion it is the best preventive maintenance tool available today.
What mobile devices are compatible with Whitcommand?
Any device with the internet is compatible with our platform.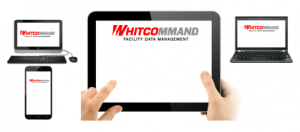 Is this platform compatible with multiple users/properties?
Our platform is designed for National Accounts. We feel that having one contractor that you can trust and depend on for all of your roofing needs is ideal for anyone responsible for multiple properties.
You can set up additional users to have access to all of your properties, or the individual properties they are responsible for.
What are your service areas?
We are licensed throughout North America, and provide services from coast to coast.
What roof systems do you work with?
We work with all types of roof systems! We are award winning approved applicators of leading manufacturers in the industry.
What are the subscription fees?
We have no subscription fees. You only pay for the services you want, when you need them.